Apple MacBook Pro M1 Pro vs M1 Max
Are you considering buying the new MacBook Pro but are confused about the best option? Check out the New Apple MacBook Pro M1 Pro vs M1 Max Comparison to make an informed decision.
– Similarities
Both Apple MacBook Pro M1 Pro and M1 Max support 10 core CPU. Out of 10, 8 are the performance cores and the remaining 2 are efficiency cores. The more number of cores the machine supports, the more processes it can handle efficiently. Considering the New Apple MacBook Pro M1 Pro vs M1 Max, both units have robust chips that can simultaneously handle multitasking with highly processor-concerted tasks.
Both machines support neural engines for incredible camera performance along with on-device machine learning acceleration. These devices further support the video decoding engine and media engine for HEVC, H.264, ProRes, as well as, ProRes RAW with improved hardware acceleration.
Although both devices share the most robust chips offering similar features, however; the units also have some differences. Before you proceed with your purchase, it is crucial to understand the differences and learn if the machine is worth spending thousands of dollars or not.
– Differences
With M1 Pro, users get approx. 16 cores which support robust graphics processing. The M1 Max provides around 32 cores. That's a huge difference, particularly for gamers, graphic designers, and animators.
The memory bandwidth is another highlighted difference when comparing the New Apple Macbook Pro M1 Pro vs M1 Max. It's 200GB per second VS 400GB per second. For routine tasks, users may not find any difference. For animators, developers, and editors, the machine makes a huge impact on performance.
– Performance
If you are into development, you will enjoy 3.7 times quicker project builds with a 10-core CPU both with M1 Pro and M1 Max. While using the M1 Pro, you will get approx. 9.7 times quicker 4k renders than the M1. Considering the M1 Max, the number gets up to 13 times.
The M1 Pro offers 5.6 faster speed, whereas, with M1 Max, users can enjoy up to 8.5 speed. The M1 Pro shows a considerable performance boost compared to the M1 Max.
– Pricing
Pricing is another vital aspect to consider if the M1 pro or M1 Max is worth the investment. The MacBook Pro with M1 Pro chip starts from $1,999. The M1 Max processor comes with a 24-core GPU that adds approx. $500, whereas having a 32-core GPU M1 Max chip could add on $700.
The MacBook Pro 16-inch M1 Pro model starts from $2,499, whereas the M1 Max model initiates at $3,499.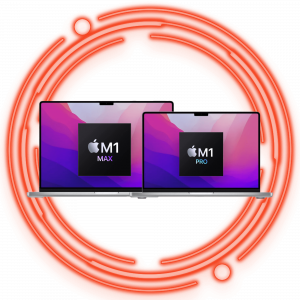 Apple M1 Max VS M1 Pro: Best Option?
Considering the facts, the M1 Pro supports a robust chip that goes best for professional workflows. M1 Max, on the other hand, is not particularly designed for explicit tasks, M1 Pro users won't miss out on anything.
M1 Max is more robust than M1 Pro, however; basic use does not require this much power. 32GB RAM could be essential to professionals, if more is required, the M1 Max is the best option.